Event
15

https://lib.itb.ac.id/archives/event/women-empowerment-series-program-women-in-politics

Women Empowerment Series 2017/2018

Theme: Women in Politics
Speaker: Nova Riyanti Yusuf (Former Visiting Scientist, Harvard Medical School – Former Member of Parliament, Republic of Indonesia)

Time: Friday, September 15 2017 at 1:00 PM
Venue: Multifunction Room 1st Floor. ITB Central Library

Objectives:
-To acknowledge Women's voices in politics.
-To support fairness treatment towards women in society by having women as policy maker to foster gender equality and secure women's rights.

Topics of Discussion:
(1) To improve public awarness about the necessity of having more women leaders to breakdown culture and structural barrier.
(2) To educate public that any women-related policies which determine womens life must decided by women.
(3) To show that leadership is not gender exclusive (male).

28

https://lib.itb.ac.id/archives/event/diskusi-mli-september-2017-kolaborasi-seni-dan-sains

Diskusi Moedomo Learning Initiatives (MLI): Kolaborasi Seni dan Sains.

Diskusi bersama Anna Madeleine (Seniman Media Baru – AUS)

Kamis, 28 September 2017. Pukul 14:00 WIB

Ruang Serbaguna Perpustakaan Pusat ITB Lantai 1.
Archives
Categories
PPID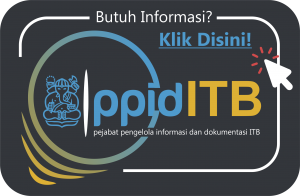 PENELUSURAN E-JOURNAL
E-BOOKS